16/02/2016
by Jen Prosek - owner of Prosek Partners, an international public relations firm, and the author, with Richard Rende, Ph.D., of Raising Can-Do Kids: Giving Children the Tools to Thrive in a Fast-Changing World
These are the skills kids need most now to succeed when they grow up. -
I own an international PR firm and my brother is an artist, writer and naturalist. We both became entrepreneurs in our early 20s. People often ask if our parents did anything special in raising us. When I had my daughter in 2007, the question took on new meaning-I wanted to know if parents could influence their child's entrepreneurial IQ.
To help answer the question, I contacted Richard Rende, Ph.D., who studies child development, and together we identified a number of areas where parents can have a great impact.
Why does it matter? In our fast-changing world, kids need a whole new set of skills to succeed. Helping children gain entrepreneurial traits will give them a solid foundation for defining, pursuing and achieving their own success.
Here are seven entrepreneurial traits well worth cultivating in your child:
1. Openness to Experience
Babies and children are born to explore. They are open and curious about the world around them. Free form "playful learning" is a proven way to advance academic readiness and lifelong curiosity. Let your kids follow their instincts and discover-and reinforce that with enthusiasm and wonder. Adults who are open to experiences have their "radar screens" on all the time. They see opportunities where others don't and welcome challenges, hallmarks of success in the workplace and in life.
2. An Innovator's Perspective
Innovation isn't just for people who will create new technologies or businesses. Kids growing up today will need to be perpetual innovators, devising new solutions and approaches to problems. Permit kids to test out their ideas when playing or doing schoolwork (without critique). Coming up with their own solutions helps develop and reinforce creativity and critical thinking skills. And make sure to cultivate an environment where failure is tolerated. Innovators embrace experimentation and know that you must fail in order to succeed.
3. Optimism
If there's one trait associated with entrepreneurs, it's optimism. Successful entrepreneurs believe they can change things for the better through their own efforts. Being optimistic confers real life, career and health advantages. To encourage optimism, frame the day in a positive way, model optimistic thinking and problem solving and cultivate gratitude. And remember that optimism is contagious. If Mom and Dad's outlook on life is positive, it will rub off on the kids.
Related: What Separates Chronically Positive People from Everyone Else
4. Industriousness
Whether they're children or adults, successful people get their hands dirty, sometimes literally. To help kids develop a strong work ethic, they need to learn the intrinsic rewards of a job well done. Parents should resist the urge to smooth their child's path or do for them what they can do for themselves. One time-tested way to build industriousness is by giving kids chores. Researchers have found that participating in chores early in life was strongly associated with personal and academic success 20 years later.
5. Opportunity Seeking
Children need to feel comfortable seeking out opportunities-academic, social, personal and physical-without fear of negative consequences. When children feel secure and supported, they develop the self-confidence they need to trust their judgment and instincts and are free to embrace opportunity when they see it.
6. Likeability
Likeability in childhood translates to success in adulthood. It's important to note that likeability is not the same as popularity. Likeability is about getting along well with the people around you. Parents play a big role in helping kids develop social proficiency. They can help them negotiate conflicts without becoming disagreeable, model how to collaborate with others and boost their communication skills.
7. Empathy
There is one tendency above all others that entrepreneurs endorse as key to achievement: serving others. In any endeavor, if people don't contribute something that is wanted or needed, they can't succeed. Kids today can have extraordinary "résumés," but having a sense of entitlement and a lack of empathy will ultimately hinder them. Talk about your emotions and help your child understand that the feelings of others matter. Compassion and empathy will change their world and their lives for the better.
Not every child will grow up to be an entrepreneur but every child can benefit from having entrepreneurial skills to help navigate our complex world. As traditional life and career paths disappear, children will have to be able to adapt and learn at every stage of life. Like entrepreneurs, they must make their way in the world with no roadmap to guide them. Parents can help set them on a path to use their talents and abilities to create success for themselves and others.
- See more at: http://www.success.com/article/7-entrepreneurial-traits-to-teach-your-child#sthash.qBFiZbgz.dpuf
12/02/2016
by John Clarke
09/02/2016
by Team Tony Robbins
Imagine a world in which it's easier to grow your business than you thought. Imagine a world in which just ten simple steps could help you take your business to the next level starting today.
Thanks to Dave Kerpen, CEO of Likeable Local and Cofounder & Chairman of Likeable Media, you don't have to imagine. Because he has 10 proven business strategies that have brought him massive success over the last seven years. And Kerpen shared these insights with Chad Cooper in a Tony Robbins webinar.
Here's a look at Kerpen's 10 key ways to building a $10 million business:
Find trustworthy partners
Whether it's a close friend or family member, partner with people you can trust. Most of the time, we focus on the character and virtues of those we are legally partnered with. But vetting other people and entities that you are associated with - including your vendors and advisors - is equally critical.
Create a strategy and focus
One of the biggest mistakes young business make is over-committing. They end up saying yes to almost everything and lacking a clear focus. But if you try to be all things to all people, chances are you will fail. Start with making a one-page strategic plan that forces you to focus on creating and doing one thing for one target audience. Verne Harnish's one-pager provides an ideal framework to help structure this thought process. With a singular focus, you can harness all of your energy and effort and direct it towards a specific outcome.
Say no to what's off focus
Saying no to anything that isn't in your direct line of fire may be difficult to do at first, but can actually be one of the smartest business decisions you make in the long run. Even if it means firing your own customers. Why? Because it frees you up to focus on your target, it allows for more space and bandwidth to grow, and makes you available for the yes's.
Find peer support
If you're a business owner, you know what's at stake and how much risk is involved in running a company. But how do you handle the fear of failure? Where do you go for advice and guidance? That's why finding a peer community is so important. Not only can this provide a confidential atmosphere where you can find support and valuable insight, it can be instrumental in the process of learning the most efficient and effective ways of taking your business to the next level.
Form a board of advisors
Coordinate a group of trusted mentors to counsel you on key issues in growing your business. While an advisory board may not seem like a critical component of business success, it can actually become one of your most important assets in business development - providing the strategic advice and complementary skills to take your company to the next level.
Hire slow and fire fast
The sooner you part ways with employees who aren't the right fit, the better. Most of us, however, do the opposite. We hire quickly to fill the position when we really should be taking our time to determine if the candidate has the right nature, the right personality and whether or not their core values align with those of the company. Then we are quick to let the person go, even though we know in our gut that it isn't working. By hiring slow and firing fast, you will find that it is more efficient and effective for you, your business and for that person.
Build great values and culture
Take the time to create a space where your employees want to spend their time. Think about it - you spend more of your waking hours at work and with fellow employees than anywhere or with anyone else. So isn't it worth taking the time and money to create a place that people enjoy working? What is the culture at your company? Do you have a strong set of core values and do your employees value these standards? Building a company where people want to go to work is one of the most pivotal ways to building a growing and sustaining company.
Build your brand
With social media at your fingertips, this is the single best time to build a brand online. It wasn't that long ago that you needed to hire a PR agency to create brand identity and awareness. But now, if you are determined and diligent enough, you can build a brand by creating quality content every single day and leveraging social media outlets to attract and engage an audience.
Ask for referrals
The best form of marketing is through your current customers. While this may seem obvious, most of us just don't do it. We may feel uncomfortable asking existing customers for referrals or we may not realize how powerful a marketing asset this can be. But if you don't try you won't reap the benefits. And it's actually quite simple to do, if you know how to present your products or services with certainty, and can go a long way towards building your business .
It's the people
The single most important factor in your success is your people - your partner, your advisors, your staff, your peers. All of these individuals will help you do the work to take your business to the next level. That means you don't have to do it alone, but you do have to find the right people, and empower them, so you can harness the power and potential of their talent, skill and drive.
05/02/2016
by Guest Blogger - Practice Index
The GP shortage that pretty much all practice managers will have experienced in some form or another during their careers has been described as the "biggest challenge facing the NHS since its formation". As there's no miracle cure out there and no one person can fix the problem overnight, when a practice needs to recruit the problem often falls into the already bulging in-tray of the practice manager. So what can you do to successfully recruit a new GP?
Earlier this month Carol Charles, the practice manager at Park Surgery in Great Yarmouth, was praised by the CQC for her role in the proactive approach to GP recruitment implemented at the surgery. The recruitment plan helped the practice achieve an outstanding rating, so what was it that the inspectors liked so much?
Vision and strategy
The CQC inspectors praised the fact that a five-year business plan was in place, which included a supporting action plan demonstrating a commitment to continuous learning, development and recruitment. For example, succession and professional development plans for the GPs and practice manager were in place and well-managed.
"The practice involvement in training medical students and GP registrar training had not only secured development and recruitment of new GPs and GP partners at the practice, but had been constructive in securing GP recruitment to other practices in the area," the report read.
Moreover, staff said they felt respected, valued and supported, particularly by the partners and the practice manager at the practice, which aided both staff retention and recruitment – reputation really does matter.
Job share
While long term planning is one thing, what about if you need to recruit in the short term? Recruiting salaried GPs might be easier than looking for partners, so perhaps it's time to consider changing your practice structure?
Val Hempsey, practice manager of Bridges Medical Practice in Gateshead, was quoted in the media last year outlining her solution to the problem. While she is aware of the recruitment problem in her area, the practice has no problem recruiting, partly down to the unusual structure – she is the only partner – and therefore needs to only recruit salaried GPs.
Despite this model working for this practice, Val admits that her doctors are up still against it. As a result some of her salaried doctors don't want to work full-time in the practice, protecting their work-life balance. As has been well-publicised, the GP workload is constantly increasing, not just because the number of patients are on the rise but because of the admin burden practice staff are faced with too.
Prevention is, of course, better than cure, so perhaps it's time to consider a more flexible approach to working. GPs, being in short supply, hold the upper hand when it comes to recruitment and many are opting for part-time hours. Could a kind of job share work for you? Are two GPs better than one when it comes to filling the hours? This isn't ideal and comes with some major pitfalls, but might be the best of a bad situation.
Don't hang around
Another tip that a practice manager gave us is to not hang around when recruiting. As doctors tend to apply to several surgeries, don't waste time when it comes to interviews. "As soon I get an application I pick up the phone and call them," is the advice. "I'll invite them in informally for a look around the practice and let them ask their questions and just generally have a chat. This works well as it breaks the ice, gets the GP onside and is far more effective than scheduling interviews in four weeks' time. We've definitely benefitted from this approach and believe that speed is everything."
The power of advertising
Another tip we've picked up talking to PMs is to make sure that any advert is appealing. In a crowded market full of practices recruiting, there's plenty of competition. Go big or invest in a premium listing – it's worth the extra expenditure in the long run – and talk up the plus points of your practice. Is your feedback five-star? Have you had an outstanding CQC rating? You need to sell your practice as much as the job.
Here are some more handy hints to remember when producing an ad for your practice:
Where are you?
It may sound obvious but don't forget your practice name and address or location at the top of your advert is really important as it helps create a good first impression and makes it very clear where the job is.
Practice description
Give a brief overview of your practice to allow candidates to imagine what it might be like to work there. Remember to sell your pros!
What are you looking for?
Be specific about any additional skills required for the role, for example, if an interest in teaching is required as you are a training practice. Too many ads use generic terms such as 'dedicated' and 'hard-working' – who will admit to being uncommitted and lazy?!
What you can offer
As well as salary and benefits, talk up the type of working environment on offer, for example, a practice that values a good work-life balance, flexible working or a supportive working environment.
Important dates
Many good adverts fail to include a closing date, which can make it difficult for candidates to know whether it's worth applying or not. You may also find that your advert is listed after the closing date and you continue to receive applications for a vacancy that no longer exists.
How to apply
Be clear about what you want info you need candidates to supply. Some practices like a handwritten covering letter, others are happy to receive applications by email. Asking for preferred working hours here could help you work out a flexible work programme.
27/01/2016
by Anthony Keane - Personal finance writer News Corp Australia Network
A FAMILIAR feeling of fear has been haunting investors, super fund members and self-funded retirees.
A shocking start to 2016 for the sharemarket has rekindled memories of the Global Financial Crisis, and worries worsened last week when global bank RBS warned of a "cataclysmic year" and urged investors to "sell everything".
A few finance experts have joined in the gloomy chorus, but many have criticised it, and others have forecast good gains for Aussie shares between now and December.
RBS warned that global sharemarkets might fall by 20 per cent in 2016, which is not that nasty compared with the GFC when Aussie shares tumbled 55 per cent from late-2007 to early-2009.
LOSSES HURT
The All Ordinaries index, which tracks the value of 500 listed companies, has slumped 7 per cent in the first two weeks of January.
It was at a similar level in December and September last year. Wise Owl Financial adviser Allan Ward, who has studied investor psychology, said if the market had simply been flat since September investors would not be fearful.
"People hate losing money more than they like making it - it's the way we are wired," he said.
"The problem with 'sell everything' is when do you buy back in? There will always be volatility and a big variance in opinions - sometimes it's the people at the extreme at either end who get the most airtime."
Most superannuation fund members are exposed to shares - typically about half their retirement savings - but downturns enable their compulsory contributions to buy more fund units for less.
Mr Ward said the sharemarket was simply companies that we use every day, and people should avoid making emotional knee-jerk reactions about long-term investments.
"You are either a short term trader or a long-term investor."
BEARISH SENTIMENT
CMC Markets chief market strategist Michael McCarthy said the RBS comments came from an analyst with a reputation for being negative, but the fact it got so much airtime highlighted that investor sentiment was poor.
"This guy's nickname is broken clock. He's been calling the market down since 2010. He's a perma-bear," he said.
Mr McCarthy said the panic might already be over, although the sharemarket was likely to be volatile all year.
"Don't empty out your portfolio at what could be the low point. Ups and downs in markets are natural and normal. The reason why shares over the long term have higher potential rewards is that they also have higher risk," he said.
"Those investors who can show a bit of steel and live with the risk are likely to get the rewards over the longer term."
Angie and Hector Menendez, both 31, said they were comfortable taking calculated investment risks and focused on the long-term growth of companies.
"We typically invest in companies that we would be comfortable keeping even if the stock market was to close for a duration of time," Ms Menendez said.
"Our portfolio is also well diversified across sectors, so our plans are not affected by the recent volatility."
NEW GFC 'UNLIKELY'
AMP Capital head of investment strategy Shane Oliver said there were several reasons why investors should not be too concerned, including low interest rates and the unlikelihood of a global recession.
"The current dynamic is very different to the GFC as lower oil prices and commodity prices are providing a huge boost to consumers and most businesses," he said.
Dr Oliver said recent falls pushed shares back into "very cheap territory", with the gap between dividend yields and term deposit rates back to its highest level since the GFC.
Australian shares must climb 40 per cent just to get back to their record high of 2007. Other markets - such as the US - hit record highs last year.
Mr Ward said it was understandable for mum and dad investors to be annoyed. "I feel for the people who retired in 2006-07 or invested a large lump sum. They may feel 'what's the point of all this' but it comes back to the question of what's your time frame.
"The magnitude of the GFC drop was hopefully once in a lifetime."
27/01/2016
by Stefanie Di Trocchio
The magic ingredient to help your business grow is the capital to support your growth.
'Cash flow' equals delaying outgoing costs long enough to make sure you have enough incoming revenue to pay for them as well as leave a bit for profit. Sometimes finding the sweet spot between 'cash in' and 'cash out' feels like chasing the pot of gold at the end of a rainbow.
Your profit will build up your capital to invest in growing your business. That's easier said than done as many businesses have to provide their services long before they receive any income from the work they've done.
Here are three tips to help improve cash flow – to give growing businesses the funds and stability to grow.
1. Get paid faster
Not sending invoices out instantly? You need to fix that.
Put it this way: every minute that goes by when an invoice hasn't been sent to a customer is costing you money. Get your invoicing process under control to improve your business bank balance.
Online accounting software – or an integrated business management solution – gives you the ability to invoice instantly and to convert orders or quotes into invoices at the click of a button. Dashboards showing aged debts make sure that you know who owes you and when it was owed.
2. Reduce stock on hand
Stock costs a business money. If you're in the business of selling products, this is a necessary expense, but the sweet spot between too much and too little stock is difficult to find. Without the right inventory system in place it can be hard to achieve.
Simple things like setting minimum/maximum stock levels and automatic re-ordering, knowing what sales are coming up, what trends or seasonality changes you need to consider and how they affect your business or even knowing the latest exchange rates can help you to make better purchasing decisions.
A big problem is visibility over stock. Switching to an integrated business solution would allow automation of reordering and ensure stock was always on hand, enabling freeing up capital that can be invested back into the business.
3. Reduce costs and overheads
The most straightforward way to improve your bank balance is to get more cash in, and see less cash out. Reducing operating costs and overheads is a good way to see progress in the profit equation.
Consider these to trim fat from your budget.
Outsourcing: Outsourcing is a great way to keep your costs down either while growing or when you need to reduce some overheads. Two areas that can be outsourced are IT and administration work.
Suppliers: If you currently order stock from multiple suppliers, consider locking in with one supplier instead. They will benefit from fixed costs and higher volumes and you will benefit from lower costs and easier to manage relationships.
Budgeting and forecasting: Make sure that you know what you have to pay when and review your key numbers regularly so that you can spot trends, opportunities or risks. Be realistic about spendings, allocate appropriate resources to projects, monitor performance, improve decision-making, identify problems before they occur – and meet your objectives.
Systems: Implementing a business management solution often brings planned cost savings from better visibility, reduced administration time, savings from stock management improvements, increased time billing and many more areas.
There are many ways to increase your business bank balance. Some can be implemented straight away; others require the implementation of software or a process change. The ability to increase the amount of funds on hand to help support growth is what will separate your business from your competitors.
Want to find out more?
Is your business growing? For more information about how you can improve your bank balance and inject more profit into growth, contact our Enterprise Solutions team today.
22/01/2016
by John Clarke
What is so great about the number 72?
Let me explain what makes 72 the answer
Using an example, if you invested $10,000 that earned you 10% per annum, how much would that investment be worth after 7 years ?
You may expect the answer to be $17,000, as 10% return on $10,000 for each of 7 years would be $7,000. However, the answer is actually $19,487.17 to be exact. This is because your investment earns interest on the interest each year, in jargon speak, compound interest.
What this means is, at the end of the first year, you would have $10,000 plus $1,000 of return, and at the end of the second year, you would have 10% on this $11,000 (rather than just on the initial $10,000). Each year this happens, the greater the effect on your long-term returns. Of course, if you spend the 10% return each year, you will still have $10,000 at the end of 7 years.
What about the number 72? How does that fit in?
The number 72 allows you to quickly and easily work out how much investments may be worth over time. It works like this - if you divide 72 by the interest rate, this will estimate how long it takes to double your investment.
Using the example above, 72 divided by 10% equals 7.2. So your initial investment doubles from $10,000 to $20,000 after 7.2 years. This sounds pretty good, but it gets better as this doubling effect continues. After 14.4 years, you would have $40,000, then $80,000 after 21.5 years, $160,000 after 28.8 years, and $320,000 after 36 years. So in this example, your $10,000 investment would increase to $360,000 after 36 years. Pretty cool, isn't it?
Another great way to use this method is to work out the effect of inflation on your investments.
Let's say you have 24 years left before you retire, and you think you will need $1 million in today's money to retire on. If you had one million dollars and put it under your mattress for "safekeeping", that one million dollars would buy more today than it would in 24 years' time because of the impact of inflation.
If we estimate that inflation is 3% per annum, then 72 divided by 3% gives us an answer of 24 years. This means that having $1 million today is the same as having $2 million in 24 years' time, because of the impact of inflation.
Considering inflation then, the $360,000 after 36 years in the first example is actually closer to $125,000 in today's dollars. This is still pretty good, but does prove that the earlier you start putting savings away, the more time The Answer 72 has to work its' magic! Compounding is a wonderful thing. Give it time to work for you.
John Clarke - Clarke McEwan Accountants and Business Advisors.
21/01/2016
by Lindsay Kolowich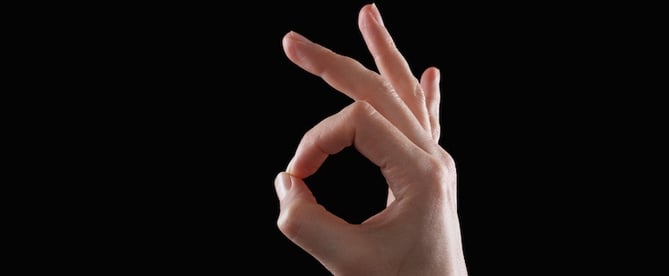 Managing your email inbox can feel like playing a never-ending game of whack-a-mole. Just when you think you've gotten to inbox zero and start doing your little victory dance ... up pops another email. And another one.
While unsubscribing manually from tens -- hundreds? -- of newsletters one by one sounds tedious, there are tools out there that can help you do it in just a few clicks. Unroll.me is my personal favorite: It's a free tool that lets you mass unsubscribe from all the newsletters you don't read. You can either unsubscribe from everything at once (my recommendation), or you can pick and choose. Read this blog post to learn more about how it works.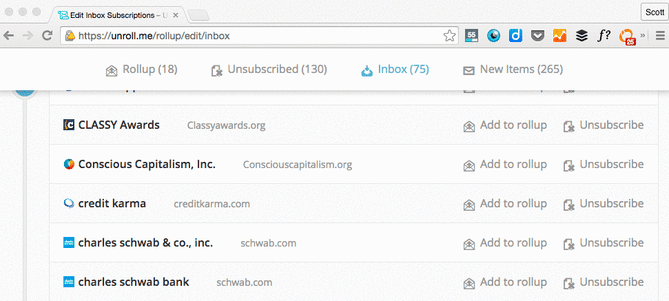 2) Remove yourself from any internal company and business threads you don't need to be on.
Once you've unsubscribed from external newsletters, it's time to evaluate the internal emails you receive on a regular basis. Do you really need to get email notifications every time the sales team closes or deal, or every time someone on the marketing team reports a bug?
If the answer isn't a definitive "yes," do yourself a favor and remove yourself from whatever alias or list you're on. If that makes you wildly uncomfortable, compromise by creating a folder in your email client and send those emails to that folder automatically. (To set at up, you can create filters in Gmail or rules in Outlook.)
3) Understand -- and embrace -- that you can't respond to everything.
Part of maintaining a manageable inbox -- and your sanity -- is to change the way you think about email a little bit. Only you can decide what deserves your very limited time and attention. When it comes to email, understand that there's simply no way you'll be able to respond to every single email that arrives in your inbox, let alone read them all.
I love the way Merlin Mann puts it: "Stop thinking of emails like precious family heirlooms, and start treating 'em like pints of milk. Perishable, time-stamped milk that becomes a little less fresh every day until it smells kind of funny and just needs to be dumped. Believe me, there will always be more coming."
So if you're looking at an email and know in your heart of hearts you're never going to respond to it, archive it. Better yet, delete it. As Mann says, "Trust your instincts, listen to them, and stop trying to be perfect."
4) Keep your replies brief whenever possible.
When you do have to reply to an email, you'll find that in most cases, you don't need to craft the perfect response. Often, a few sentences will do; in some cases, a few words. If you let an email with an action item sit for a few days, a quick "Do you still need this?" email might end up saving you a lot of time.
Don't feel guilty about sending succinct emails. If you're concerned your brevity will be taken the wrong way, give a heads-up to the folks you exchange emails with the most. Tell them that, in your effort to spend less time on email and more time on your actual work, you plan to cut down word count in your emails.
The better you get at deleting emails you don't need to read or respond to, the more time you'll have to write the emails that warrant those long responses.
5) Use pre-written replies.
Which types of emails do you find yourself typing out over and over, without really needing to customize them?
I, for example, often find myself referring people to HubSpot's guest blogging guidelines page. I used to write one-off emails to folks, meaning I'd have to craft a few sentences, find and copy the link, and so on. Now, I give myself ten minutes back in my day by sending pre-written replies via Gmail's "canned responses" feature.
Gmail, Outlook, and other email clients offer canned responses. Below are instructions for setting up and using them in Gmail.
To Set Up Canned Responses in Gmail:
Click the gear icon in the upper right-hand corner and choose "Settings."
Click the "Labs" tab, find Canned Responses at the top, and click "Enable." Scroll down and click "Save Changes."
To create a canned response, compose a new email and click the little arrow in the bottom right-hand corner of the new email. Choose "Canned responses," and then "New canned response." From there, you can name your new canned response, write it, and save it. Anytime you want to use it, simply go back to that little arrow, choose "Canned responses," and click on the one you'd like to use. (Learn more on Google's website.)
To Set Up Canned Responses in Outlook:
In Outlook, the best option I could find was to set up your canned responses as "Signatures." That way, when you reply to an email, you can choose the appropriate "signature" and the whole canned reply will appear. Here's how to do that:
On the Outlook menu, click "Preferences." Under "E-mail," click "Signatures."
Click the plus icon to add a new signature.
A new signature will appear under "Signature name" with the label "Untitled." Double-click "Untitled," and then type in a new name for your canned response.
In the right pane, type the text that you want to include in the signature -- in other words, type in your canned response.
Once you create the canned response as a signature, you can add it to a new email by clicking in the message body, choosing the "Message" tab, clicking "Signatures," and choosing a signature from the list. (Learn more on Outlook's support page.)
6) Employ a one-click rule.
This rule might seem simplistic, but it's a huge time-saver. The "one click" refers to a single click to open an email once. Once it's open, decide exactly what you want to do with it right then and there: Reply, forward, send to a folder, archive, and/or delete.
The point here is to not open an email, read it, and then decide to deal with it later and move on. That's the bad habit that'll guarantee you a clogged inbox and more stress down the road.
7) Triage emails using "special stars" in Gmail.
If you use Gmail and your goal is to get to inbox zero and maintain it, then I'd like to direct you to the email system that's changed the way I do email. Here are the full instructions. This works great in conjunction with the one-click rule we just talked about.
The premise is this: In Gmail, you'll set up multiple inboxes and give each of them a name, like "Needs Action/Reply" and "Awaiting Response." Your general inbox will then appear on the left, and your labeled inboxes (which Gmail calls "panes") will appear on the right, like so: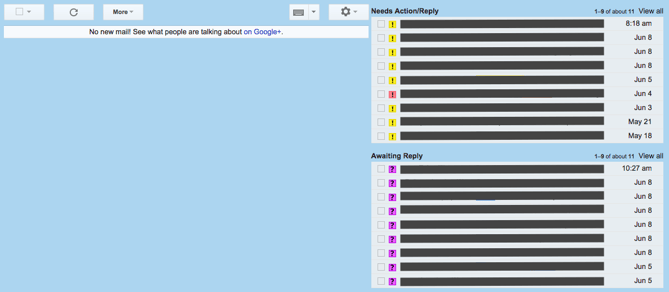 You'll use what Gmail calls "special stars" -- kind of like Gmail's labels, but better -- to categorize every single email that comes into your inbox.
Every time you get a new email in your inbox, you'll want to:
Reply to the ones you can right away.
Label the emails you need to deal with later by marking them with the appropriate special star.
Archive or delete any emails you don't need to deal with.
In the end, you'll archive everything. Your inbox will stay at zero, and everything else will either be in its designated pane, archived, or deleted.
Use Outlook?
SimplyFile is a free organizational tool that'll help you categorize emails using folders. When an email comes in, all you have to do is drag it into the appropriate folder. You can organize both messages you're receiving in your inbox, as well as messages you're sending -- which you can file as you send them.
Image Credit: SimplyFile
8) Delegate emails to others using a collaboration tool.
Sometimes, you might find that you receive emails that are better handled by someone else. In these cases, you could either forward the email, or you can streamline the process by quickly sharing the email with someone on your team using an email collaboration tool.
There are a number of email collaboration tools out there to choose from. If you use Gmail, Hiver is a great choice: It lets you share Gmail labels (and therefore share folders) with other users, which you can use to assign tasks, delegate emails, and even track their status if you want to. If you need to add a quick note explaining what's going on in an email thread, you can do that right in the tool.
Image Credit: Hiver
9) Use the "yesterbox" approach.
"Yesterbox" is a methodology for managing your inbox created by Zappos CEO Tony Hsieh. This approach is kind of like inbox zero, except you're working off all the emails from yesterday and treating them like today's to-do list.
The basic premise is this: Every morning, you have a fixed number of emails to answer instead of an endless flood of new emails coming in. Once you finish dealing with yesterday's emails, you're done with email for the day. Here are the full instructions.
Like Klinger's methodology from #7, you'll categorize incoming emails into folders labeled "Yesterbox," "Today," "Action Required," "Awaiting Response," and so on. As new emails come in, you'll label them accordingly. But as for actually dealing with these emails -- that's left for a specific time on your calendar that you've designated for handling yesterday's emails. In the end, your Yeseterbox is a to-do list with static tasks.
It's that freeing sense of completion that makes this method so appealing -- but be wary that if your job requires you to tackle emails as they come in, this may not be the best method for you.
10) Set up filters when you go on vacation.
Vacations are awesome, but coming back to a jam-packed inbox is ... not so awesome. One way to manage your email workflow while you're gone for long periods of time is to set up filters.
This is an approach HubSpot's Director of Marketing Rebecca Corliss found worked really well for her when she went on her month-long sabbatical. Corliss was working in Gmail, but you can adapt this method for most email clients. In short, here's what she did:
She created a new folder for her vacation ("Spain Sabbatical 2015").
She set up a filter that recognized any emails being sent to *@hubspot.com. By putting the asterisk there instead of her actual email, she was able to capture not only emails that were sent to her work email address, but also emails sent to the company aliases she was on.
She added a second filter that deleted irrelevant emails -- for example, all the daily and weekly digests she expected to receive, like metrics updates.
When she returned, she strategically handled all her unread emails. For example, she searched for emails she wanted to respond to first by conducting key searches for her manager's email address.
Once these more time-sensitive messages are addressed, she blocked time to go through the remaining emails and respond only to the ones that were absolutely necessary. Here are the full instructions.
11) Block time to get back to inbox zero.
Dedicating specific chunks of time to get back to inbox zero isn't just for when you return from vacation. It should be something you tackle in short batches on a daily basis, and in larger chunks every week or so, depending how much new email you receive.
The purpose of batching email? So you aren't handling emails as they arrive. That can be a serious productivity killer, and can pull you away from projects and tasks that are more important than a perfectly clean inbox.
On a daily basis, limit yourself to dealing with new emails during fixed periods each day. For example, HubSpot Demand Generation Manager Amanda Sibley physically blocks off an hour in the morning and an hour in the evening on her calendar for getting her inbox in order. Do what works for you.
12) Use keyboard shortcuts.
To make the process of reading, replying to, archiving, and deleting emails a lot faster (and generally more enjoyable), take advantage of any keyboard shortcuts your email client offers. Here are tips for keyboard shortcuts in Gmail and Outlook. If you use a different email client, do a quick Google search for the name of your email client + "keyboard shortcuts."
Keyboard Shortcuts in Gmail:
First thing's first: You'll need to activate keyboard shortcuts. To do this:
Click the gear icon in the upper right-hand corner and choose "Settings."
Click the "General" tab, find "Keyboard shortcuts," and select "Keyboard shortcuts on." Scroll down and click "Save Changes."
Then, go back to "Settings" via that gear icon, click on the "Labs" tab, and find "Custom keyboard shortcuts" (by Alan S). Choose "Enable." Scroll down and click "Save Changes."
Once custom keyboard shortcuts are turned on, a new tab will appear in your Settings called "Keyboard Shortcuts." Head over there to learn the default keyboard shortcuts and customize them if you'd like.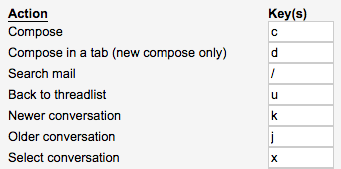 Keyboard Shortcuts in Outlook:
Outlook doesn't let you customize keyboard shortcuts, but they have a heck of a lot to choose from. Here's the full list, and below are some favorites:
Create a new message: ? + N (Mac); Ctrl + N (PC)
Send an open message: ? + Return (Mac); Ctrl + Return (PC)
Save an open message and store it in Drafts: ? + S (Mac); Ctrl + S (PC)
Forward a message: ? + J (Mac); Ctrl + J (PC)
Display the next message: Control + ]
Display the previous message: Control + [
Delete the selected message: Delete
Mark selected messages as read: ? + T (Mac); Ctrl + T (PC)
Looking for more ideas for gaining and maintaining control of your email? Here are 11 inbox organization tools to try, as well as four solutions to getting "inbox zero" based on your personality.
19/01/2016
by Sam Hendersen - Australian Financial Review
2016 may well be a year for traders and those SMSF trustees willing to lock in short term profits. The old adage, "The bull goes up the stairs and the bear goes out the window" probably won't get much of a look in if the last week of December and the first week of 2016 trading is anything to go by. Markets finally had their Santa Claus rally jumping some 400 points on the ASX within days as the sun set on 2015 and then losing 200 points several days into the new year.
Had you bought the All Ordinaries (say using an ETF or a balanced portfolio of shares) around the 4950 and ridden the market to 5350 you'd be staring down the barrel of an 8 per cent return. That's probably better than you did all last year and it all happened in two weeks. The point I'm trying to make is that if you lock in your profits several times a year with a basic understanding of the market, you can improve your chances of investment success.
You will also need a basic understanding of value on both individual stocks and the market as a whole. The market appears expensive at 5,950 and cheap at 4,950 with fair value rated around the 5400 to 5600 region on the All ords. Remember, as Warren Buffett says Mr Market can be highly emotional and whilst the daily business news can fluctuate from optimism to pessimism on a flash release of a single piece of economic data, the stocks that we are trading are in fact real businesses with real customers, staff, products, services, income, expenses and profits. Some insights into their operations and thus valuations is essential if you plan on a successful retirement using your SMSF.
Of course, transaction costs need to be factored in. You may have brokerage, capital gains tax or advice fees to pay but never be afraid to make a profit and you'll never go bust! If you're lucky enough to be in pension mode, there is no capital gains tax no matter if you're in transition to retirement mode or account based pension mode. Your ability to trade successfully virtually cost fee is significantly greater.
So lets consider the macro environment. Interest rates are going up in the US and markets are cautious. Our dollar may be under pressure as a result of rising US rates and unemployment in the US remains low and business conditions strong. China is still growing but they are not booming and therefore our resources are may remain under pressure, and this too is a contributor to a lower dollar. Oil prices too remain subdued sitting at multi-year lows so the cost of business for many US companies remains cheap and the consumers will have more money in their pockets unless OPEC gets their act together and curbs supply.
Whilst global growth rates remain subdued and the outlook for the share market is forecast to run at parallels, the share market will be a stock pickers market in 2016. Banks still need to raise capital so it may be worth taking up potential further offers as interest rates are low and housing remains strong. Banks have an uncanny reputation to hang onto their profits despite short term regulatory headwinds. Health care has been a bellweather for growth but an impending government review on bulk billing has rained on the likes of Primary and Sonic but keep an eye on value in this sector. Ramsay (no. 1) remains a key holding for me and I've been topping up on the dips.
Consumer goods and services have been strong in our low interest rate environment and I'd urge some caution in the face of the Dick Smith failure but some common sense can be applied here. Interest rates are low, unemployment is low and house prices have been moving north (in most populous states) so consumers are active. Just watch for the switch in rates bias that can rain on this parade (possibly end of 2016) but there's little sign of that yet (read the free downloadable Westpac weekly economic report from their website). Every builder, architect and renovation related business I know is absolutely flat out and that should flow through to building and renovation-related businesses such as JB Hi Fi, Breville, Kresta, James Hardie and GWA. So too AP Eagers may work as a holding as more people upgrade the family sled and motor vehicle sales touch records. A word of caution though, these stocks can be fickle, must be watched very closely and are not in my top 10 despite strong results.
I'll be watching less of the old stalwarts (although I like the first three) such as CBA (no. 2), NAB (no. 3), Telstra (no. 4), Woolworths and Wesfarmers and more of other large cap stocks in the form of Seek (no. 5), Crown (no. 6) and REA Group (no. 7). Woolworths is a sell in my books. Never lose sight of dividends and the banks again remain strong contenders for income and CBA is my favourite and Macquarie (no. 8) appears a reasonable prospect to me with the possibility of greater corporate activity and their expansion of recurring revenue streams, as does Challenger (No. 9). Just be cautious of dividend traps such as BHP (no. 10) although it has looks like good value at the moment and we'll be watching their results very closely this year as it remains in portfolios coupled with Woodside as the only resources contenders for our very conservative clients.
All in all, 2016 may be a subdued year overall but like always opportunity will abound and your results will simply be a function of how you capitalise on the potentially fleeting moment of portfolio profit. Some logical application of basic economics, consumer behaviour and market and company valuations can have a significant impact on your superannuation balance. Your retirement depends upon it.
17/01/2016
by John Clarke
Selling the Family Business
A family business is a journey - challenging, rewarding and often unpredictable. Should you decide to sell the business - often a daunting decision - careful planning and skilled execution are required to ensure a successful outcome.
A recent survey of ultra-high net wealth individuals, highlighted the opinion that a lack of strategic planning for the family was the greatest destroyer of wealth.
Perhaps the hardest decision for any family business owner is when, or if, to sell the family business. Selling a family business is like no other sale. It requires an approach which addresses both the family's issues and the business' issues as one, with the two often closely intertwined. It needs extensive preparation and great judgement, with timing and stakeholder management often critical.
Most owners have strong family and emotional ties to the business - part of their family heritage and their collective identity. They may also wish to achieve specific outcomes for wider stakeholders, including highly valued staff and long-standing customers. The challenge is even greater when family members are actively involved in the company. Some family members may take a purely commercial view, whilst others believe the business should be handed down to their children and grandchildren and be part of their livelihood and collective identity.
The business is often the most valuable family asset, so the sale should not be considered in isolation from the wider interests and future intentions of the family. The use of proceeds and future careers of family members are important considerations in the long-term success of the family.
If you or someone you know is considering the sale of your family business talk to professionals that know the process inside out. Make some time to talk to us at http://www.clarkemcewan.com.au/contact_us/request_an_appointment and see how we can help at http://www.clarkemcewan.com.au/our_services/selling_a_business